Kedarnath Yatra by Helicopter Tour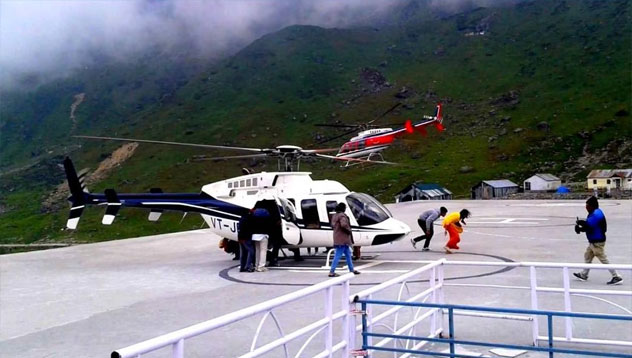 Kedarnath Yatra By Helicopter 2022 - Kedarnath Helicopter Services
The famous temple of Sri Kedarnath which is so widely known for its extraordinary sancity.legend is that the Pandavas sought the blessing of lord Shiva to atone their sins of killing their kith kins in the battle of Mahabharata.the conical rock are formation is worshipped as the idol in the shrine. For visit kedarnath temple is trek by 16 - 17 km from gaurikund or by helicopter services from guptkashi and phata.
Kedarnath Helicopter Ticket Booking Price - Kedarnath Yatra Helicopter Service
Chardham Travel Offer updated helicopter ticket booking price for kedarnath yatra helicopter service. Book leisure and comfort helicopter tickets for kedarnath with us.
| | |
| --- | --- |
| Duration | 1 Days |
| Passengers | 04 to 05 |
| Helicopter Services Start From | Dehradun/Haridwar |
| Departure Time | 06:00 am : Report at shahastradhara helipad in dehradun/Haridwar. |
| Kedarnath by Helicopter Price | INR 72,500 per person (+ 5% GST) |
| Validity | May-June and Sep-Oct 2020 |
| Locations Covered | Kedarnath |
For same day return you will be given 90 minutes at Sh. Kedarnath Ji.
For same day return, passengers wiil have to buy Priority Dharshan slip of Rs.1100/ Person by Shri Kedarnath Ji Mandir Samiti available at helipad.
Passengers are required to undergo Medical Checkup and Biometric registration or any other requirement for Kedarnath Yatra 2018. Government Uttarakhand has made suitable arrangement for this purpose.
Passengers are requested to report at the helip at the notified Reporting Time.
Advanced booked passengers will have priority over spot booked passengers.
Passengers are requested to follow all the safety instructions given at the helipad.
Item of explosive nature, sharp objects like knife, scissors, blades, screw drivers, match boxes, cigarette lighters, firearms, crackers etc. shall not be allowed on board. In case a passenger is carrying any firearm, he has to declare it before hand to the Pilots and deposit it with him along with the license. Photography is prohibited at Helipad & during flying.
Children above the age of 2 Yrs shall be charged full ticket. In case of dispute regarding age of children/infants, valid proof of age shall be the only deciding factor.
Following documents are accepted as valid Photo IDs; Valid Passport / Valid Driving License / Election Photo ID /PAN Card / Photo ID issued by Govt./PSU and School Photo ID.
Each passenger is permitted to carry only one handbag weighing not more than 02 Kgs.
Reporting time is not to be confused with boarding time; boarding time may take place between 1 – 2 hours after the reporting time. Passengers are requested to check the reporting time from the company/their agents one day before the journey date.
Effort will be made to accommodate passenger in their own group. However, due to weight, flight availability or weather conditions, it may not be possible to ensure this. Therefore, the passenger might have to travel alone in separate flights even if you are a part of a Group.
The Minimum waiting period of passengers would be 2-3 hours but it may exceed to 3-4 hours as per the ground situation such as weather condition, time of refueling the helicopter or Non- Availability of passengers at either side.
Operations subject to Govt. of Uttarakhand approval.
Ticket issued against cheque payment is subject to realization of cheque.
Passengers weighing more than 85 Kgs have to pay Rs.150/Kg as overweight charges on spot.
Booking stands confirm only upon realization of full payment and name list of all passengers with age and weight details.
If in any case flight cancelled for the day, the next day passenger will be given priority over previous day ones.
Ticket prices are as approved by Government of Uttrakhand and in case of any change in prices or contract the refund / excess will be settled by company or by passenger appropriately.
Note : Kadarnath Helicopter Services mentioned schedule is tentative just for understand the operationl system and timing. Above itinerary timings, Price, and route are not fixed can be changed without prior notice, as flying in this sector mainly depends on weather conditions.